Red noses at the ready – it's nearly (Space and) Time!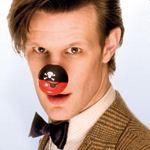 As you'll all know, tomorrow is Red Nose Day, which means that millions of people up and down the country will be working together to Do Something Funny for Money!
With our help, the charity aims to change the lives of poor and disadvantaged people living across Africa and the UK, and the Doctor Who team will also be doing their bit to help raise funds. During tomorrow night's telethon on BBC One, kicking off at 7pm, two special mini-eps - 'Space' and 'Time' - will be airing!
To get in the mood, below you can watch The Curse of Fatal Death, a classic adventure written by current showrunner Steven Moffat which aired as part of Red Nose Day in 1999! It stars Rowan Atkinson, Richard E Grant, Hugh Grant and Joanna Lumley.
So, red noses at the ready (which one have you got?), and enjoy whatever it is you'll be doing to raise lots of money! Let us know what you'll be getting up to in the comments!