David says a future comeback isn't "impossible"…
Warning! This article and its comments may contain spoilers...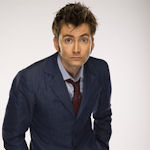 David Tennant has revealed that, while there are no current plans for him to make a return, he hasn't completely ruled out a Doctor Who comeback at some point in the future.
"Not impossible, but no plans at the moment," he explained during a recent interview with Total Film. "People keep telling me they've read online I'm coming back, but believe me, if that happens I'll be the first to tell everyone, I'll be shouting about it very loudly." He made his final appearance as the Tenth Doctor in The End of Time, Part Two.
He continued: "I am very proud of the show and I am aware it casts a long shadow professionally, but I'm happy about that. It is a shadow wearing a cool, long coat!"
Would you like to see the Tenth Doctor again? The 50th anniversary is coming up…