Jamie Oram joins the cast of The Gunpowder Plot
Warning! This article and its comments may contain spoilers...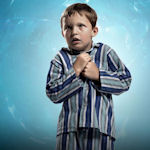 It's been confirmed on the official Doctor Who website (see the Fourth Dimension tab!) that Jamie Oram will appear in the forthcoming Adventure Game, The Gunpowder Plot.
Jamie played George in last night's episode, Night Terrors, however it is unknown whether he will be back as George or voicing a new character in the game. The game will be set in 1605 London, where the Doctor, Amy and Rory meet Guy Fawkes. It will be released next month and also features the voice work of Phil Daniels.