What did the world think of Miracle Day's finale?
Warning! This article and its comments may contain spoilers...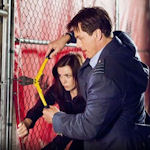 Miracle Day reached its dramatic conclusion in the UK on BBC One on Thursday night, with an audience of 3.9million tuning in for its final instalment.
According to the Telegraph, the episode was "very talky", and they have praised Eve Myles in particular for her "bravura performance". The Guardian admits that the series climaxed "with actually quite a bit of class", and the Independent also agrees that it "was rounded off in supreme style". SFX have given the "irritatingly vague" episode 2.5 out of 5.
Elsewhere, Radio Times has said The Blood Line "suffered from uneven pacing, careless characterisation and a lack of focus", but do you agree? Was the finale a worthy ending?
So, that's it for Torchwood: Miracle Day! Thanks to everyone who has commented/rated in our discussions over the last 10 weeks. We'll have to wait and see if Jack and Gwen will be back for more, but, in the mean time, you can relive the Miracle over at our mini-site!
Looking into the future, what would you like to see in Series 5? Or do you agree with John that a movie would be the the right way forward for the team? Have your say below!
Unravel the latest Series 4 developments in our ongoing and dedicated discussion…