Relive Mr Finch, K-9, Reinette and the Cybermen!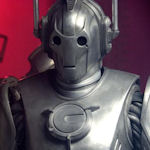 Tune into BBC3 over the weekend, as they'll be continuing their repeats of David Tennant's first series.
Tonight on the channel, the Doctor, Rose, Mickey and Sarah Jane investigate a London school being haunted by strange, bat-like creatures in School Reunion from 7pm, followed by an attack from sinister clockwork killers in The Girl in the Fireplace at 7:45pm. Tomorrow night, at 7pm, the TARDIS is trapped on a parallel Earth, and just in time to witness the Rise of the Cybermen. Prepare to be deleted!
You can catch up with the early adventures on BBC iPlayer. Feels like only yesterday…