Steven reveals new companion is "very different"
Warning! This article and its comments may contain spoilers...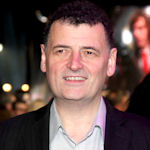 Steven Moffat has revealed that the Doctor will be meeting a "very different" companion in the new series.
In a special introduction message written in the programme of the recent live concert in Melbourne, the showrunner teased: "Doctor Who's 50th anniversary is coming, and we are gearing up for the biggest and the most ambitious series we've ever made. There will be surprises and heartbreak – the Doctor is about to say goodbye to his very best friends, Amy and Rory."
He continued: "And then he's about to say hello to someone very different – the Doctor is going to meet someone very new in the very last place he could ever have expected."
So, what do you make of of Steven's cryptic message? Where's the last place the Doctor expects? Post all ideas below, and don't forget to describe your dream companion!