WIN a 32-inch HD TV, plus 2 Doctor Who Blu-rays!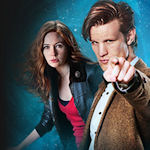 The official Doctor Who Facebook page is currently running a competition for one lucky fan to win a 32-inch TV, along with Blu-ray's of Series 6 and last year's Christmas special, The Doctor, The Widow and The Wardrobe!
To be in with a chance, simply 'like' the Facebook page (if you haven't done so already!), and click here to enter. The very best of luck if you'll be giving it a go!
Thanks to Lee for letting us know the news!