John on Torchwood's future, the 50th anniversary
Warning! This article and its comments may contain spoilers...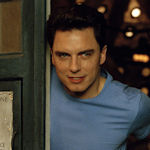 John Barrowman spoke to MTV Geek during his attendance at Chicago Comic & Entertainment Expo this weekend.
He talked about what the future holds for Torchwood, saying he'd "be back at the drop of a hat". "I love Captain Jack, and me and Eve are like brother and sister on set. We have a great time together," he said. "Jack's an iconic figure. He's a hero. Wherever I am, as long as it works out in my schedule, I will come back. At the end of Miracle Day there's a cliffhanger, so who knows what will happen?"
He went on to discuss his hopes to be involved in Doctor Who's 50th anniversary next year, admitting: "It would be a shame if Captain Jack wasn't there. He was such a big figure and presence within the show itself, and also within Torchwood. But it's not up to me. It's just one of those things. I guess you'll have to sit back and watch this space."
Would you like to see Torchwood back, and should Jack return for the landmark year…?