MacRae says Series 7 opener's "absolutely brilliant"
Warning! This article and its comments may contain spoilers...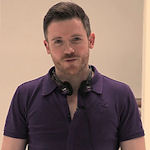 Tom MacRae has described the first episode of Series 7 as an "absolutely brilliant" opener.
The writer, whose latest contribution to the series was last year's The Girl Who Waited, recently spoke to Den of Geek about what's in store in the new series. "There's a big Dalek story opening it," he said. "Any expectations you have got, double them. It is that good. It's so, so brilliant." He goes on to comment on next year's 50th anniversary, promising "lots of nostalgia".
"The 50th is obviously going to be a big hark back to everything that's gone before," he teased. "So there's going to be lots of nostalgia over the next year or two years."
MacRae has also penned The Crash of the Elysium, which is set to open in Ipswich next month following its successful run in Manchester last year. We'll bring you more information on that – as well as our exclusive interview with Tom – in the coming weeks.
See the latest Series 7 headlines to discuss all the developments as and when…