Series 7 premiere ep is to be screened at MGEITF
Warning! This article and its comments may contain spoilers...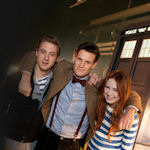 It has been confirmed that the first episode of Series 7 will be screened at this year's MediaGuardian Edinburgh International Television Festival.
The event, which takes place during August of every year, brings together various senior media figures in order to inspire, learn and create new networks throughout the ever growing television industry. Attendees will be able to see the opening episode of the new Doctor Who series before it's aired, and Steven Moffat will be giving a masterclass.
The news has led to speculation that Series 7 will begin on BBC1 around the same time…
The festival runs from 23rd to 25th August. At last year's, Let's Kill Hitler was shown.
WATCH the Series 7 trailer for a preview of the Doctor's Wild West adventure!