Steven reveals the Daleks will be "worse than ever"
Warning! This article and its comments may contain spoilers...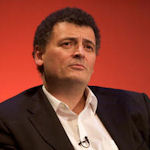 Steven Moffat has said that the Daleks will be "worse than ever" when they make a return in the new series.
The Doctor will once again hear the dreaded, infamous cry of "Exterminate!" in the first episode of Series 7 in the autumn, and it won't just be the most recent design making an appearance. About their comeback, the showrunner teased: "The Daleks are back and they are worse than ever. Just wait until you see what they are going to do. If I even told you the title you would say, 'Ah'."
Steven was presented with the Special Award for his writing at last night's TV BAFTA.
See the latest Series 7 headlines to discuss all the developments as and when…