Discussion: Your hopes for the 50th anniversary
Warning! This article and its comments may contain spoilers...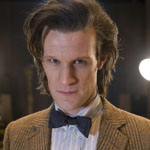 Unless you've been living deep in the Medusa Cascade, you'll know that next year will be the 50th anniversary of Doctor Who, and everybody's talking about it!
With over a year to go there's already plenty of rumours and speculation about how the BBC will celebrate the tremendous milestone. With talks of a multi-Doctor special, a movie, and various past characters and foes returning, just how will the landmark year be commemorated? Your guess is as good as ours, but what would you like to see?
In this discussion you'll be able to share all of your hopes and dreams for 2013. Would you like to see a multi-Doctor ep? Which characters/enemies from years gone by should make a triumphant comeback? It certainly will be a big historic moment – the event is surrounded by lots of expectation already. But what do the "extensive" plans involve?
Loading ...
The comments below are the perfect destination for all your 50th anniversary musings. Drop in to discuss the latest developments as and when – even at 4am if you are being kept up with your wild, wonderful theories! You can also tweet us ideas @WhovianNet.
Click HERE to keep up to date with the latest 50th anniversary developments!