Interviews with Matt about 'Bert & Dickie' drama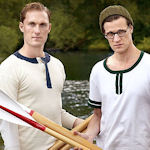 The BBC has released a couple of video interviews featuring Matt Smith discussing what attracted him to Bert & Dickie.
The Eleventh Doctor actor takes on the role of British rower Bert Bushnell in the drama, which depicts the true-life story of how he defied odds to win gold in the double sculls at the 1948 Olympics.
Sam Hoare – also seen in the interviews below – co-stars alongside Matt as Bushnell's rowing partner, Richard Burnell.
We will let you know when its airdate is confirmed. In the meantime, watch the trailer!
Above – Matt Smith and Sam Hoare explain their characters and describe the challenges of playing Olympic gold medal winners Bert Bushnell and Dickie Burnell.
Above – Matt Smith and Sam Hoare over-steer the boat and fall into the river.