Matt and Jenna – third new filming shot released!
Warning! This article and its comments may contain spoilers...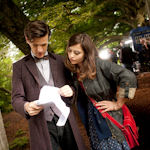 The BBC has today released the third image of Matt Smith and Jenna-Louise Coleman filming Doctor Who!
Not much is known about Jenna's character as of yet, but we do know that we will meet her in this year's Christmas Special. She has been described by Steven Moffat as being "salty and clever", and it's said that she'll lead the Doctor on "his merriest dance yet". We can't wait!
You can check out the latest production shot below.
See the latest Series 7 headlines to discuss all the developments as and when…
WATCH the Series 7 trailer for a preview of the Doctor's Wild West adventure!