New Eleventh Doctor audiobook, The Nu-Humans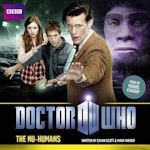 A new audiobook adventure for the Doctor, Amy and Rory is due to be released next month!
Cavan Scott and Mark Wright have joined forces to introduce us to The Nu-Humans. In the exclusive story, our heroes arrive on Hope Eternal, where colonists from Earth have reworked themselves with new DNA structures.
Their presence is far from welcomed by the  governor, and soon some dark home truths are unearthed…
The Nu-Humans, read by Series 6 guest star Raquel Cassidy, arrive on 5th July 2012.
See the latest Doctor Who products on sale now via our merchandise section!