See how times change in the latest issue of DWM!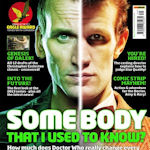 The new issue of Doctor Who Magazine – out tomorow – is all about how times change, as it takes a look at how far the series has come since its revival back in 2005.
It's not all about the past though, as there's the latest news on Series 7, including updates on the 2013 episodes, which will star Jenna-Louise Coleman as the new companion.
Speaking of the new companion, casting director Andy Pryor explains what it takes to find somebody with star quality.
Meanwhile, writer Robert Shearman gets chatting about his classic 2005 episode, Dalek.
Doctor Who Magazine #449 is published tomorrow (Thursday). Will you be picking it up?
See the latest Doctor Who products on sale now via our merchandise section!