Sonic screwdriver remote control in development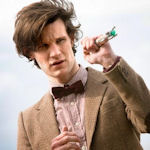 BBC Worldwide's teamed up with The Wand Company to develop a remote control replica of the sonic screwdriver!
The device has got the Doctor out of many a sticky situation over the years, but now fans will be able to use it to control their TVs, iPod docks and DVD players, it's been reported.
Based on the Eleventh Doctor's screwdriver, the remote will be compatible with various entertainment systems, as it will be able to store up to 39 infrared remote codes.
Fiona Eastwood, BBC Worldwide Consumer Products, commented: "Doctor Who is one of our key brands so we are very excited about working with The Wand Company. Not only will the Sonic Screwdriver look great, it'll also boast a range of functions and features."
"Since we launched our first wand, Doctor Who fans all over the world have been asking us to create a remote control Sonic," The Wand Company's co-founder, Chris Barnardo, added. "We are thrilled to be working with BBC Worldwide to bring it to the market. Our Sonic Screwdriver will look authentic and it will control electronic devices around the home. We're sure Doctor Who fans will be as excited as us about this new Screwdriver."
See the latest Doctor Who products on sale now via our merchandise section!