Colin says Classic Doctor ep "not going to happen"
Warning! This article and its comments may contain spoilers...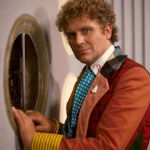 A 50th anniversary special featuring the return of Classic Doctors is "not going to happen", according to Colin Baker.
The actor, who played the Sixth Doctor from 1984 to 1986, told Cambridge News he is not expecting to be included as he believes none of the past incarnations are required.
"The show is doing extremely well without us," he explained. "They don't need us. You know, we've all moved on – some less gracefully than others. I've changed."
However, he added that he is "neither for nor against" a comeback, and would consider it if it was handled correctly. He said: "There would be two big questions I would ask. Is my Doctor going to get a fair crack of the whip in the story? Because you want parity. Then the other one is, what vast fortune are you offering me? I would say if they offered me a million quid, I'd say one line for them. But if they offered me a tenner, I wouldn't."
He also commented on his time in the TARDIS, saying he has "come to terms with" the negativity that surrounded his tenure. He revealed: "I loved doing it. I was hacked off at my summary departure. Michael Grade didn't like the programme. He made that clear when he came to the BBC. I was the tin can on the shelf as he was chucking stuff at it."
During a 2010 interview, he said the likelihood of a multi-Doctor story "is very small".
Share your 50th anniversary hopes and dreams in our dedicated discussion…