Comic Con: Karen describes leaving as "liberating"
Warning! This article and its comments may contain spoilers...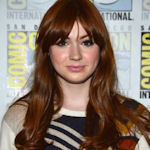 Karen Gillan's admitted that it feels "liberating" to be leaving Doctor Who for pastures new.
Speaking at Comic Con at the weekend the actress told io9 that she has "had the best time" being Amy Pond. "So it was really sad to film my exit," she revealed. "At the same time, it's liberating being able to go on to do other things."
This month she starts filming Not Another Happy Ending, an indie comedy in which she plays writer Jane Lockhart.
She has also been cast in Oculus, a supernatural horror film to be shot later in the year.
Amy and Rory's "movie style" finale episodes will air as part of Series 7 this autumn.
Click here for our Comic Con 2012 news, including cast & crew panel updates!
WATCH the Series 7 trailer for a preview of the Doctor's Wild West adventure!
See the latest Series 7 headlines to discuss all the developments as and when…