Comic Con: Karen promises "movie style" final eps
Warning! This article and its comments may contain spoilers...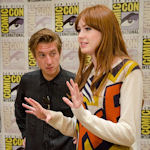 Karen Gillan has described Amy and Rory's final episodes as "major, epic, movie style" adventures.
Speaking to MTV Geek at Comic Con, the actress teased "exciting" stories for Series 7, which is expected to begin next month. She warned that the opening episode, Asylum of the Daleks, will have fans hiding behind the sofa. "I've never been massively scared of the Daleks," she revealed. "I like them because they are iconic, but they never scared me before. They did in this episode."
Click here for our Comic Con 2012 news, including cast & crew panel updates!
WATCH the Series 7 trailer for a preview of the Doctor's Wild West adventure!
See the latest Series 7 headlines to discuss all the developments as and when…