Comic Con: Matt says the Daleks are "scary again"
Warning! This article and its comments may contain spoilers...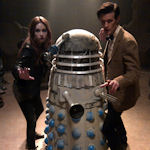 Steven Moffat has already warned us that the Daleks will be "worse than ever" in Series 7 and now Matt Smith's also reaffirmed that we haven't seen anything from them yet!
The metal monsters will be helping to kick off the new series in style when – in Asylum of the Daleks – the Doctor and his friends come face to face with every Dalek… ever. "We had to draw in every Dalek that's ever been made around the world," Matt told SFX at Comic Con. "We filled a room with them. It was incredible to be in a room with so many!"
He added: "We have even made them scary again, in a way we perhaps didn't achieve with my first series. That's really exciting. My favourite Dalek's from the Troughton era."
He goes on to discuss the next companion, Jenna-Louise Coleman, describing his new co-star as "wonderful" and "dedicated". "Of course we will all miss Karen and Arthur, but the show is always evolving," he explained. "Steven is writing for Jenna in an interesting and a very different way. With her help, the show will be bigger and better than before."
He finished by promising us the 50th anniversary will be as "far-reaching" as possible.
Click here for our Comic Con 2012 news, including cast & crew panel updates!
WATCH the Series 7 trailer for a preview of the Doctor's Wild West adventure!
See the latest Series 7 headlines to discuss all the developments as and when…