Comic Con: Pond exit is their "most epic" story yet
Warning! This article and its comments may contain spoilers...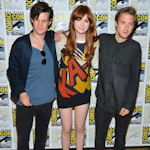 Karen Gillan has teased that Amy and Rory's final story is, rather fittingly, their "most epic episode yet".
The on screen couple will be leaving the TARDIS in Series 7 in an episode that was filmed in New York. "The sheer scale of it is just incredible," the actress said at Comic Con. "Plus New York looks amazing!"
Arthur Darvill agreed: "Yeah, it was really difficult to film, as there's just so much in it – and Karen couldn't stop crying!"
Click here for our Comic Con 2012 news, including cast & crew panel updates!
WATCH the Series 7 trailer for a preview of the Doctor's Wild West adventure!
See the latest Series 7 headlines to discuss all the developments as and when…