Comic Con: River's back as "the queen of mischief"
Warning! This article and its comments may contain spoilers...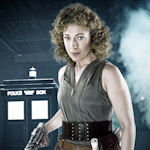 Caroline Skinner confirmed at Comic Con that River Song will be back once again in Series 7, and it sounds like she'll be up to her old tricks!
She said that Alex Kingston's enigmatic character serves as "the queen of mischief" when she returns in Amy and Rory's final story, which she described as "genuinely moving". "The women have all wept and the men have all said, I have the worst case of allergies," she revealed. "But I don't think the anti-histamines are going to help them!"
Click here for our Comic Con 2012 news, including cast & crew panel updates!
WATCH the Series 7 trailer for a preview of the Doctor's Wild West adventure!
See the latest Series 7 headlines to discuss all the developments as and when…