Daily Star's latest Series 7 rumour – spoilers ahoy!
Warning! This article and its comments may contain spoilers...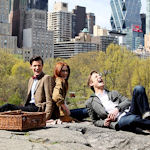 Start spreading the news! The Doctor, Amy and Rory will be off to New York in Series 7, and the latest rumour suggests they'll be facing something very sinister there indeed…
A newspaper claims that the trio will "get a massive shock" when they land in the Big Apple and discover that the Statue of Liberty has turned into a Weeping Angel. The episode will be Amy and Rory's last, and Karen Gillan recently said that she's "more than satisfied" with their exit. Find the link to the Daily Star's article in the spoiler box below.
WATCH the Series 7 trailer for a preview of the Doctor's Wild West adventure!
See the latest Series 7 headlines to discuss all the developments as and when…