David Bradley discusses his upcoming Series 7 role
Warning! This article and its comments may contain spoilers...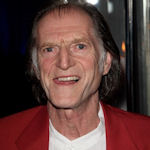 David Bradley's revealed a few details about his character in Series 7 of Doctor Who.
The actor – best known for his roles in Harry Potter, Hot Fuzz and Game of Thrones – will be seen in Episode 2 of the new series, Dinosaurs on a Spaceship, as Solomon, who he has described as "a space pirate" whilst speaking to The University of Warwick. He said: "We've modelled him on a well-known night club owner – he has got long hair, lots of scars, and he wears head to foot in black leather."
He also confirmed that he "runs a ship the size of Canada". "He has giant robots who are a bit rusty," he then added. "He got them two for one I think, at some robot convention."
He finished: "It was great working with Matt. He is a terrific actor. We had fun together."
WATCH the Series 7 trailer for a preview of the Doctor's Wild West adventure!
See the latest Series 7 headlines to discuss all the developments as and when…