"Feature length" Series 7 trailer to air next week!
Warning! This article and its comments may contain spoilers...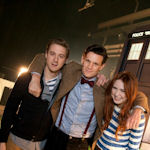 The BBC has confirmed a "specially-made feature length" trailer for Series 7 of Doctor Who will be aired next week, as part of their Original British Drama Olympics campaign!
Throughout the games, the BBC will showcase its upcoming original dramas to the nation – at 8pm across the 17 days of the event, one of their shows will be previewed.
Doctor Who's time to shine will be Thursday 2nd August at 8pm on BBC One, so don't miss it! Not that you would…
BBC One Controller Danny Cohen said: "The London 2012 Olympics provides a rare and unique opportunity to showcase BBC One's very best forthcoming programmes."
WATCH the Series 7 trailer for a preview of the Doctor's Wild West adventure!
See the latest Series 7 headlines to discuss all the developments as and when…