Find Matt on this week's TV & Satellite Week cover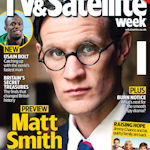 There's a preview of Matt Smith's upcoming Olympic drama, Bert & Dickie, in this week's issue of TV & Satellite Week.
As you can see below, you won't have difficulty locating it on the shelf – Matt appears on the cover in role as British rower Bert Bushnell. We're loving the glasses, Matt!
The drama depicts the true-life story of how he defied odds to win gold in the double sculls at the 1948 Olympics with his parter Richard Burnell, played by Sam Hoare.
You can watch the teaser trailer for it here, and there's some interviews with Matt here.
This issue of TV & Satellite Week's on sale tomorrow. Go on, add Matt to your collection!