Happy Birthday, Eve Myles!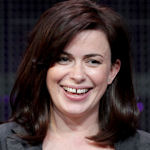 Please join us in raising our glasses to wish Eve Myles a very happy birthday!
The actress plays Gwen Cooper in Torchwood and turns 34 today. We hope she enjoys her celebrations!
The future of Torchwood's still undecided, but Eve's said that she is "not ready" to let go of it just yet, suggesting that a movie could "draw a line under" the franchise. Where do you think the series should go next? Let us know!