Happy Birthday, John Simm!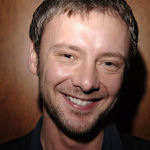 Please join us as we raise our glasses to wish John Simm a very happy birthday today!
The actor was seen as the Master in Series 3 and The End of Time. He is turning 42 today and we hope he enjoys his celebrations! Leave your own messages for him below.
Who knows if we will see the Master again – in an interview last year, John said he would "love to have a go" at the Eleventh Doctor. Is this something you'd like to see?