Karen cast in lead role in new horror movie, Oculus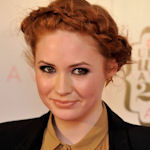 Karen Gillan has been cast in the lead role in a new horror film, it has been confirmed.
The Amy Pond actress will shoot the movie – called Oculus – in Alabama, US in the autumn. Directed by Mike Flanagan, "the supernatural pic" tells the story of a woman whose life was destroyed as a child when her parents were murdered. Her brother was pegged with the crime, however a decade has passed and she still believes that it was committed by a supernatural force, so she sets out to prove it.
The film was written by Flanagan and Marc D. Evans to be distributed by FilmDistrict.
Karen's final Doctor Who episodes as Amy Pond will be aired on BBC One in the autumn.