Matt teases this year's Christmas Special is "magic"
Warning! This article and its comments may contain spoilers...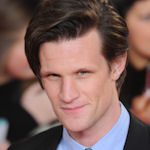 Series 7 hasn't even started yet (don't forget, new trailer this Thursday!), but for the Who cast and crew, it is business as usual as they continue production on the new series.
Soon, Christmas will arrive early in Cardiff as they begin to film the Christmas Special, and, according to Matt Smith, this year's festive episode is "magic". He told EW that he continues to be blown away by Steven Moffat's scripts. "I just read it and there's a bit where I'm like, "Where does he get it from?" It's totally left field as an idea," he said.
The Christmas Special will have added excitement this year as it will feature the debut of the Doctor's latest companion, played by Jenna Louise-Coleman. Matt recently said Jenna's doing "a fantastic job" before describing her as "dedicated" on the set.
Doctor Who's become the first British show to take the cover of Entertainment Weekly.
WATCH the Series 7 trailer for a preview of the Doctor's Wild West adventure!
See the latest Series 7 headlines to discuss all the developments as and when…