Paul McGann says he's had "no invites" to return
Warning! This article and its comments may contain spoilers...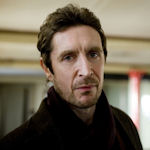 Paul McGann recently revealed that he's had "no invites" to return to Doctor Who for its 50th anniversary in 2013.
The actor – who played the Eighth Doctor in the TV movie in 1996 – admitted to being as in the dark as everyone else as to whether or not there's a plan to bring him back during the landmark year. "I know it's imminent, but no," he explained. "There has been no sounding out taking place, but maybe it will happen. We don't know." In a previous interview he has said he'd "love to" reappear as part of the celebrations.
He went on to say that the series is "in safe hands" with Matt Smith in the title role. He commented: "The kid's obviously brilliant. He's a really, really good choice to take it on."
Share your 50th anniversary hopes and dreams in our dedicated discussion…