The Doctor's Wife tweet along – #BiteyMadLady!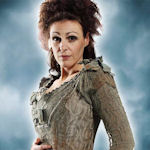 One of the most popular episode of Series 6 is repeated on BBC Three tonight and we'll be doing a tweet along to it!
In The Doctor's Wife, by Neil Gaiman, the Doctor receives a distress signal from an old friend, but could there really be another living Time Lord out there? Hopes raised, he follows it to a junkyard planet, populated by a very strange family.
Tune in to BBC Three at 7pm, and share in the experience with us @WhovianNet using the hashtag #BiteyMadLady!