Thursday's new Series 7 trailer – see it online first!
Warning! This article and its comments may contain spoilers...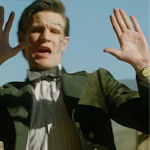 Great news – the new Series 7 trailer (which will debut on BBC One later this week) will be premiered online first!
It's been confirmed the 90 second preview will be revealed on the official website on Thursday morning ahead of its TV debut at approximately 8pm that evening.
The series is expected to begin on BBC One next month – its opener, Asylum of the Daleks, will be previewed at the BFI on 14th August.
WATCH the Series 7 trailer for a preview of the Doctor's Wild West adventure!
See the latest Series 7 headlines to discuss all the developments as and when…