Whovians, our Fan of the Month for July 2012 is…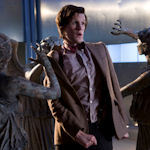 Jane, 51, from England! She put herself forward for the title because she's been watching Doctor Who since it all began. Today, she shares her love for the series with her children – the Doctor's being passed down through generations!
You can read Jane's Fan of the Month profile – in which she discusses Series 7 and Amy and Rory's departure – here.
Once again thanks to everyone who entered this month!