David talks 50th anniversary, Olympics controversy
Warning! This article and its comments may contain spoilers...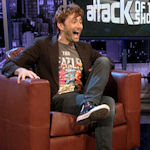 David Tennant appeared on Attack of the Show this week, and during the interview he is asked whether or not he will be involved in next year's 50th anniversary.
"I cannot be drawn on anything," he said. "Who knows what will happen? I'm sure there are lots of plans being discussed in quiet rooms by men with long beards and great power. I am not confirming nor denying anything." He has previously said that he will "be shouting about it very loudly" if he returns for the show's landmark year.
The Tenth Doctor actor also comments on the rather disappointing outcome of the online petition to have had him included in the London 2012 Opening Ceremony à la Fear Her. Discussing the fact that time has now been damanged, he jokingly warned: "There could be things unravelling. No one can say how far the implications of this are going to lead…"