DWM Special – Sarah Jane Companion, Volume 3!
Warning! This article and its comments may contain spoilers...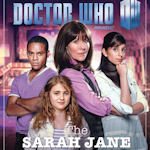 Doctor Who Magazine have published their latest Special this week – it's time to go back to Bannerman Road!
The edition's the third volume of The Sarah Jane Adventures 'companion' issues. Inside is the definitive guide to the fifth and final series of the acclaimed CBBC spin off – the last ever episodes aired last year in memory of its star Elisabeth Sladen, who passed away on 19th April 2011.
It's on sale now priced £4.99. Get your copy today!
The show's Series 5 and Complete Collection DVDs are available to buy on Amazon.
You can read our exclusive interview with Rani Chandra actress Anjli Mohindra here.
See the latest Doctor Who products on sale now via our merchandise section!