Keep calm – buy lots of Doctor Who merchandise!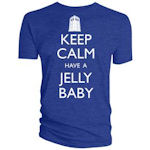 It's been a while since our last merchandise update so what have we missed? Well, deep breaths everybody…
In keeping with the 'Keep Calm And' craze, this month sees the release of these great Keep Calm Don't Regenerate, Keep Calm And Obey, Keep Calm And Delete, and (our personal favourite) Keep Calm Have A Jelly Baby t-shirts – all very good advice! Meanwhile, get ready for 2013 by pre-ordering the Official Annual (find out more about that here), and this glamourific Who Girls 2013 Calendar.
Asylum of the Daleks is also on its way – prepare for the biggest Dalek adventure ever with these talking ones from the new series, Revelation of the Daleks, Power of the Daleks, The Dalek Invasion of Earth, Planet of the Daleks and Death to the Daleks. Or, you can complete your collection by getting this set of all six of 'em, and here is the collectors figure set, SDCC exclusive, for Victory of the Daleks.

Elsewhere, if you have been following Assimilation2, the ongoing Doctor Who and Star Trek comic series, Issues #3, #4, #5 and #6 are on sale, as well as reprints of #1 and #2, and Volume 1, compiling the first handful of instalments, is on its way this autumn…
Collectors of the Character Building range won't want to miss these new Dalek Ship and Silent Time Machine TARDIS sets, and there's also these Let's Kill Hitler, The Girl Who Waited, Dematerialising TARDIS and Series 1 mini ones! And fans of the Classic Series haven't been forgotten – check out these 5th Doctor Castrovalva and Dalek (another one!) figures. Be sure to add Death to the Daleks to your DVD shelf!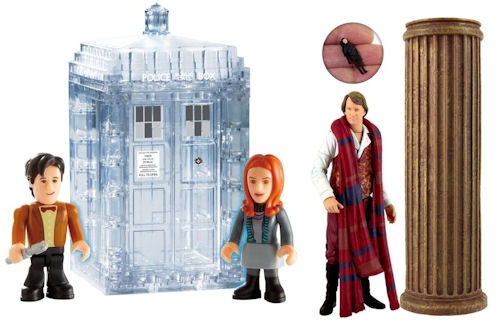 And that's not all! Take the Doctor with you as you work with this TARDIS USB Stick (it lights up and everything!), and here's some random – but appreciated – stickers to help you spread your Whovian love. Have you ever wanted a Trans-Temporal Sonic Screwdriver? And what about one that controls your telly (more here and here)? And, finally, here is an Electronic Q.L.A. Anti-Time Device – just 'cause! And relax…
See the latest Doctor Who products on sale now via our merchandise section!