More pictures: take a trip to A Town Called Mercy!
Warning! This article and its comments may contain spoilers...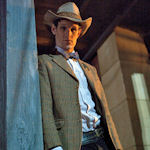 After their T-Rex turn up, our heroes will be taking a visit to A Town Called Mercy in Episode 3 of the new series!
Penned by Toby Whithouse, the Western adventure co-stars Adrian Scarborough and Ben Browder and was filmed – as all good Westerns are – on location in Spain.
Dust off your Stetsons (they're cool!) as we take a look into the future at what is on the way in this final batch of unseen images unveiled by the BBC today…
WATCH the latest Series 7 preview for plenty of Daleks, dinosaurs and drama!

Above – Hold on, don't I know you? The Eleventh Doctor and Amy Pond investigate…

Above – Adrian Scarborough guest starring as Kahler-Jex. But just what's he looking at?

Above – Amy and Rory look on as the Doctor ponders. What's on his mind we wonder?

Above – "Face me!" The Gunslinger has got a gun and he is not afraid to… sling it?

Above - All right, Doctor, we know the new series is exciting, but don't get carried away!

Above – BEHIND THE SCENES: Lights, camera… Matt Smith prepares for another take.
See the latest Series 7 headlines to discuss all the developments as and when…