Richard E Grant, Tom Ward join Christmas Special!
Warning! This article and its comments may contain spoilers...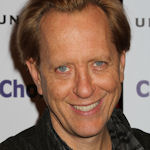 Richard E Grant and Tom Ward are the first guests to be confirmed for this year's "magic" Christmas Special!
Grant, who is best known for his roles Withnail And I, Jack & Sarah, The Iron Lady and Pocahontas, said he is "honoured" to join the cast of the festive episode. It isn't the first time he will be encountering the Doctor – in 1999 he played the Tenth Doctor in the Doctor Who Red Nose Day special, The Curse of Fatal Death, and he's also featured in the online webcast, Scream of the Shalka, for the 40th anniversary.
Meanwhile, Tom Ward will be recognised for his portrayal of Harry Cunningham in Silent Witness. Filming for the Christmas Special – written by Steven Moffat and directed by Saul Metzstein – starts his week. It will feature the debut of Jenna-Louise Coleman.

WATCH the latest Series 7 preview for plenty of Daleks, dinosaurs and drama!
See the latest Series 7 headlines to discuss all the developments as and when…