Tomorrow: New Series 7 trailer AND a new image!
Warning! This article and its comments may contain spoilers...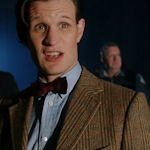 Honestly – you go months without anything and then two big things come along at once!
It's been confirmed that in addition to the new 90 second Series 7 trailer, tomorrow will also see the reveal of a brand new image as well. Everything's coming up Doctor!
The promotional pic will be unveiled on the official site – and right here on WhovianNet – at midnight tonight. We're pretty sure you'll have something to say about this one…
The trailer will debut on the official website at approximately 6am tomorrow (Thursday) and its televisual premiere will follow on BBC One at around 8pm. A big day ahead folks!
WATCH the Series 7 trailer for a preview of the Doctor's Wild West adventure!
See the latest Series 7 headlines to discuss all the developments as and when…