Arthur says it feels "like the right time to move on"
Warning! This article and its comments may contain spoilers...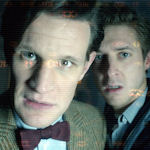 Arthur Darvill's recently revealed that he doesn't have any doubts about leaving Doctor Who as he admits it feels "like the right time to move on" from life in the TARDIS.
The actor will bow out as Rory, alongside Karen Gillan as his on screen wife Amy, in Episode 5 of the current series, The Angels Take Manhattan. "We have had such a great run and great episodes," he told Blastr, "but the worst thing you can do is outstay your welcome. The whole show is about to change – it's a show about change and evolution."
He teased that the Ponds final episode is "weepy" (no pun intended?) and promised "a lot of surprises" adding: "It is great TV. I'm really proud of the work that we put into it."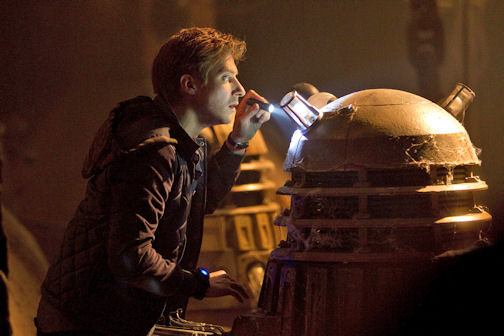 Above – Anybody home? Rory gets personal with a Dalek in Asylum of the Daleks…
Arthur's next port of call will be in the West End – he will be appearing in Our Boys by Jonathan Lewis which opens at the Duchess Theatre next month. See its trailer below:
Series 7 continues on Saturday at 7:35pm on BBC One in Dinosaurs on a Spaceship.
See the latest Series 7 headlines to discuss all the developments as and when…