Breaking down The Power of Three – the reactions!
Warning! This article and its comments may contain spoilers...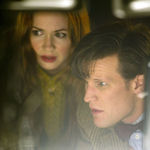 Episode 4 of Series 7 aired last night and it was The Power of Three for the TARDIS trio, as the cubes attacked… But what have people made of the "really unusual" episode?
Well, according to the Guardian the story had a great mix of "nostalgic thrills and comedy", while the Metro enjoyed the "pacey, compelling" adventure. The Independent were also impressed – noting that overall it felt "more low-key" than the previous episodes. SFX says that "there's much to enjoy", as the Telegraph discusses its "nice touches".
Meanwhile, in the unofficial overnight ratings department it was seen by 5.49 million. What did you think? It's not too late to join the conversation – rate it in our discussion!
Next week it will be time to say farewell to the Ponds as The Angels Take Manhattan.
See the latest Series 7 headlines to discuss all the developments as and when…