Chris Chibnall's "heart leapt" at Dinosaurs episode
Warning! This article and its comments may contain spoilers...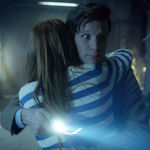 Chris Chibnall has revealed that his "heart leapt internally" when he was briefed to write this weekend's episode.
"It started with the title," the writer told SFX. "Steven Moffat just said, 'I have four words to say to you: Dinosaurs on a Spaceship'. I went quiet and tried to look cool."
He added that the story is a "big, fun, loud romp". "It was to think of as many ideas as possible, to make it as much fun as possible," he explained.
He continued: "The Doctor's summoned to the Indian Space Agency where he's told that there's a craft which is about to collide with Earth. He rounds up a gang in the pre-titles and they go to investigate what's going on. He finds some 'very large' life signals there."

Above – Rory, the Doctor and Brian busy investigating the Dinosaurs on a Spaceship.
Dinosaurs on a Spaceship airs on Saturday at 7:35pm on BBC One – watch its trailer!
See the latest Series 7 headlines to discuss all the developments as and when…