Dinosaurs on a Spaceship? It's business as usual…
Warning! This article and its comments may contain spoilers...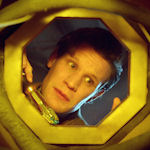 The best day of the week's once again upon us which means it's almost time for another new episode of Doctor Who…
Tonight's helping's Dinosaurs on a Spaceship, which is all we need to hear to know that it'll serve up loads of drama, action and suspense. In fact, we'd put money on it!
As an unmanned spaceship heads towards total destruction, it's up to the Doctor to save its impossible cargo. Nice to see he's taking it easy after last week, eh?
To get us in the mood for the incoming dino extravaganza-saurus, the BBC has teased us with 3 preview clips which you can check out below. You can also find out more about the life and times of Queen Nefertiti ahead of her appearance in tonight's episode, and why not read up on the dinosaurs while you're at it? The Doctor can make learning fun!
Above – The Doctor has made quite an impression on Nefertiti and she's not about to let him go…
Above - The African Plains, 1902, and one adventurer meets another…
Above – The Doctor and his friends meet the dinosaurs!
Want more? Catch the trailers and an intro here, and we'll be discussing the main event as soon as it's finished. Join us from 8:20pm to have your say on this week's adventure.
See the latest Series 7 headlines to discuss all the developments as and when…