Happy Birthday, Billie Piper!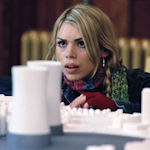 Today we send out our best birthday wishes to Billie Piper!
The actress – who played companion Rose Tyler in Series 1 and Series 2 – turns 30 today, and we hope she enjoys her celebrations! She reprised the role in Series 4 and again in The End of Time, Part Two. Matt Smith recently said he'd like her to come back for the 50th anniversary next year, but David Tennant has suggested she "probably wouldn't" be up for another return. Meanwhile, Billie has herself confirmed that her TARDIS "ship has sailed".
This autumn Billie will take to the stage for her National Theatre debut in The Effect.