Next Time: A Town Called Mercy
Warning! This article and its comments may contain spoilers...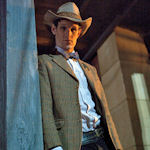 Tonight the Doctor conquered Dinosaurs on a Spaceship, but what's up next on his timey-wimey to-do list? Well…
Next weekend our heroes are goin' straight to the Wild Wild West as they take a journey to A Town Called Mercy. And yes… the Stetson will be making another appearance!
Written by Toby Whithouse, the Doctor poses as a sheriff in the episode, which was filmed in Spain. But just who – or what – is holding the town under siege?
Watch all the latest previews and share your anticipation for next week's episode below!
A Town Called Mercy premieres next Saturday (15th September) at 7:35pm on BBC1.
See the latest Series 7 headlines to discuss all the developments as and when…