Tom MacRae reveals he is writing another episode
Warning! This article and its comments may contain spoilers...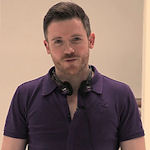 Tom MacRae has confirmed that he's currently writing a new script for Doctor Who.
The writer, whose previous series contributions include Rise of the Cybermen and The Age of Steel (Series 2) and, most recently, The Girl Who Waited (Series 6), told OTB recently that he can't yet say at what point his new episode will be shown.
He said: "I don't know when you will see it, but you will."
In our exclusive interview, Tom said it was "a real honour" to write for the Cybermen.