Animated scene to answer post-Angels questions!
Warning! This article and its comments may contain spoilers...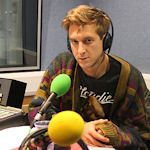 Tomorrow will see the release of a new and exclusive short video which will answer some of our questions left over at the end of The Angels Take Manhattan.
P.S., written by Chris Chibnall, uses animated storyboards to reveal what happened to Rory's dad Brian and specifically whether or not he ever found out the truth about his son and daughter-in-law's fate. Arthur Darvill provides the voice over for the scene, which will be revealed on the official site tomorrow (Friday). Don't miss it, folks!
"We are delighted we can present this lovely scene written by Chris Chibnall," said Caro Skinner, Executive Producer. "People took Rory's dad Brian to their hearts very quickly, so it is fitting that we can give the character a degree of closure in this poignant piece."
Rate and discuss the Ponds' heartbreaking swansong in our dedicated discussion, here.
See the latest Series 7 headlines to discuss all the developments as and when…