Arthur says "it feels good" to leave Rory on a high
Warning! This article and its comments may contain spoilers...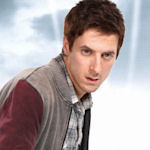 Arthur Darvill has revealed that he has zero regrets about leaving Doctor Who, as "it feels good to go when people still want you to stay".
The actor has told the Independent that although it "was the right time" to bow out, he will "really miss" being with his co stars on set. "We are all very busy but I try to catch up with Karen and Matt when I can do," he explained. He's currently appearing in Our Boys in the West End, and will also star in a new ITV drama, Broadchurch, alongside David Tennant.
He said: "I made the choice after leaving Doctor Who to do lots of work that is far away from myself. I love variety and people believing you are someone different every time."
Rate and discuss the Ponds' heartbreaking swansong in our dedicated discussion here.